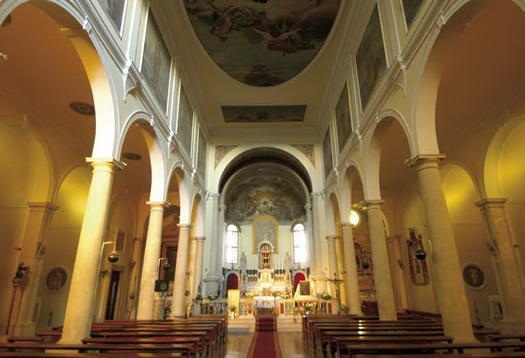 The Parish church of Visitation of Blessed Virgin Mary to St. Elizabeth was built inside the historic part of the town. The church that is standing there today was constructed with the special effort and devotion of the monsignor Paolo De Peris from 1879 to 1882 when the mayor was Tomaso Bembo. It is a big three-nave church with a crypt underneath the apse and numerous rooms beside the apse. It was built in 3 stages: the first church was an early middle age one-nave church with 3 prominent semi-circular apses from the 8th century. The Renaissance widening in 1588 made it into a bigger three-nave church of trapezoidal shape. In 1871 the church was destroyed to the grounds for the building of a new church. A rich sacral inventory is being kept in the church; stone sarcophagus from the 8th century decorated with a braiding, a wooden Romanesque crucifix form the 13th century, a wooden renaissance polyptych from the 15th century, a wooden sculpture of the Mon Perin Lady from the 15th century, valuable canvas paintings from the 17th and the 18th century, liturgical attire and equipment from the period between the 15th and the 19th century.
Many people believe that the Mon Perin Lady statue has magical powers. Legend says the town of Bale was saved by heavy rain after people prayed by the statue to end drought. Mon Perin is the name of the hill the town of Bale was built on.
In front of the church is a bell tower, originally a medieval defence tower transformed into a bell tower during romanticism. In 1856 a floor with a loggia for bells was built.